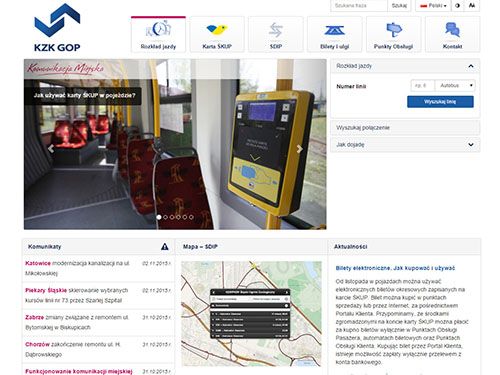 The ŚKUP system final acceptance
As a confirmation of a recent announcement, on Oct 22nd KZK-GOP, the company which manages the public transport in the whole Silesia Region (Poland), has signed the acceptance of the ŚKUP (Public Services Card) project, and the Electronic Ticketing system based on AEP ET – The Easy Ticketing which serves the twenty-one communities of the Katowice area. There are already 47 Customer Service posts, 109 self-service locations and more than 800 sales agencies with 1.300 buses and trams equipped with with AEP CDB-6 PLUS, Futura 3A and F240B devices.
Franco Margani, President of AEP: "I think this is the biggest result ever achieved by our company. We are proud and honored to have worked with Asseco Poland and KZK-GOP. The system is very complex and includes every possible feature of an Electronic Ticketing system. This is today also a complete and tested system after having undergone severe trial procedures. Our engineering team has carried out a superb job: another proof that AEP can speak out tangible facts. Its solid references makes it an ideal partner to deploy wide scope systems.