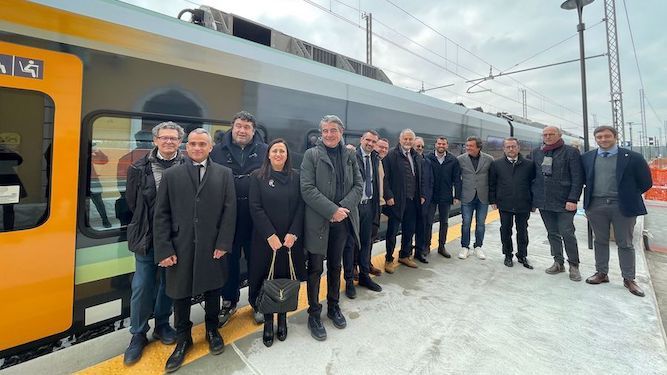 Two new trains in Tuscany with AEP's 'Pay and go' payment system
Start of new features on the Arezzo-Stia and Arezzo-Sinalunga TFT lines
Ferroviaria Italiana – an Arezzo-based company – travels on the tracks of innovation and sustainability. Today, Thursday, February 23, in the renovated station of Badia al Pino (AR), the new 2023 innovations for the TFT Arezzo-Stia and Arezzo-Sinalunga railway lines were presented: the commissioning of two new trains (POP Alstom) that can ensure safe, comfortable and low environmental impact travel for passengers and 'Pay and go', the payment system of AEP Ticketing solutions (headquartered in Signa, Florence, Italy). A smart and fast solution for purchasing tickets with contactless cards, which is already active on all TFT lines.
"Our company – says Maurizio Seri, president of LFI – continues to pursue clear and concrete goals. We want to guarantee our customers an effective, state-of-the-art service that is accessible to all and aimed at environmental sustainability. The innovations affecting the Arezzo-Stia and Arezzo-Sinalunga lines go exactly in this direction. The new trains, made of 97 percent recyclable materials, have an aluminum structure that guarantees reduced energy consumption and offers, at the same time, a high standard of comfort while meeting everyone's needs. We would like to thank the Region of Tuscany and Trenitalia for allowing the realization of the entire project that led to the commissioning of the new vehicles".
"With the activation of Pay and go– Mr Seri adds – we decided to offer travelers a service to make life easier for train users with a quick, innovative and secure payment system. It only takes a few seconds and by tapping your credit card you will be authorized to get on board, without standing in line and without waiting for the paper ticket to be printed. An advantage for users but also for the environment. There are still many challenges ahead of us," the president concludes, "but I am proud that our company has met all the goals set in these 3 last years".
"The collaboration with LFI has very deep roots – says Gianni Becattini, managing director of AEP – and we are pleased to have been chosen by this historic company to reintroduce in Tuscany this service, by far among the most modern and up-to-date at the European level. We were among the first to make it possible, and we are still among the few able to offer this solution, which always finds great favor with users, finally free from the obligations and inconveniences imposed by traditional tickets. A big thank you therefore goes to LFI on behalf of our entire company".
****
The new trains
Expanding the TFT fleet are the two 'Pop – ETR 104' electric trains, signed 'Alstom Ferroviaria' and already in use for Trenitalia's regional railway services. The new vehicles, made of aluminum and made of 97 percent recyclable materials, are characterized by reduced energy consumption also favored by intelligent air conditioning that varies according to the number of passengers. Environmental sustainability is combined with comfort and safety. In fact, the Pops are equipped with 30 traveler information monitors, stepless open-space carriages and free Wi-Fi on board. High safety standards are ensured by 32 video surveillance cameras. The trains have one toilet and a maximum capacity of 509 seats, including 309 seats and two for people with reduced mobility. There are also 6 spaces for transporting bicycles.
Pay and go
This is a simple and easy-to-use payment system. Travelers can rely on an electronic ticketing service engineered by AEP, through contactless bank cards of the Maestro, Mastercard and Visa circuits, which allows the purchase of tickets at the new validators, installed at all railway stations and main stops on the two lines covered by the TFT service.
How does Pay and go work? 
Simply tap the contactless card to the new validators, select and confirm the destination, wait for purchase confirmation, and board. The ticket will not be printed and will have the same validity and conditions as a paper ticket, with no surcharge. Users will not need to register or leave their personal information. The ticket charge will come directly to one's account statement. In case of on-board control, it will be enough to show TFT staff the last 4 digits of the bank card. Ticket purchase with the same card for other passengers (maximum number of 3) can be made within 10 minutes after the first purchase.
Railway line Arezzo – Sinalunga
The contactless electronic bank card purchasing system is available at the Arezzo Pescaiola station on the Sinalunga-bound railway line and at intermediate stops at: Via Chiari; Civitella Badia al Pino; Monte San Savino; Lucignano and Foiano della Chiana. Travelers will be able to choose, at the validators at each station, the mileage band that corresponds to the fare of the destination they wish to reach: 1.6 euros for destinations within 10 kilometers; 2.60 euros for those within 20 kilometers; 3.30 euros for those within 30 kilometers; and 4.10 euros for those within 40 kilometers.
Railway line Stia – Arezzo
The contactless bank card electronic purchasing system is available at the Stia station on the Arezzo-bound railway line and at the intermediate stops of: Pratovecchio; Porrena; Poppi; Memmenano; Bibbiena; Corsalone; Rassina; Calbenzano; Baciano; Subbiano; Capolona; Giovi; Puglia Ceciliano and Arezzo Casello 1. Travelers will be able to choose, at the validators at each station, the mileage band that corresponds to the fare of the destination they wish to reach: €1.60 for locations within 10 kilometers; €2.60 for those within 20 kilometers; €3.30 for those within 30 kilometers; €4.10 for those within 40 kilometers; and €5.00 for those within 50 kilometers. 
Identikit of AEP Ticketing solutions
The company, established in 1998, with more than 600 clients in public transport worldwide, employs, directly and indirectly, about 170 people. Aep designs and manufactures electronic ticketing systems and equipment for local public transport, and as of December 2021, while maintaining the management of the same group of businessmen who created and grew it, it is part of the international Modaxo group. It is a pioneer in the implementation of on-board "cashless" systems and solutions that include all the types that are on the cutting edge today (contactless cards and tickets, Qr code tickets, dematerialized tickets on smartphones, "Card centric" and "Account based" systems). Many cities in Italy are already using Aep's electronic ticketing systems, starting with Milan (Atm), Bologna (Tper), Turin (Gtt) and many others.
Information and contacts
The project, a collaboration of Tiemme Spa with LFI and TFT, counts on the support of the specialized consultancy of Memex (Livorno) and technology provider AEP (Signa). Information on TFT train services can be obtained at www.tft.it or by calling the call center at 800100403, free of charge from landline, and 199122344 from mobile at the own cost of the tariff plan from Monday to Friday from 8 a.m. to 5 p.m. and Saturdays from 8 a.m. to 4 p.m.
arezzo, contactless, emv, ticketing, trains, transport, tuscany