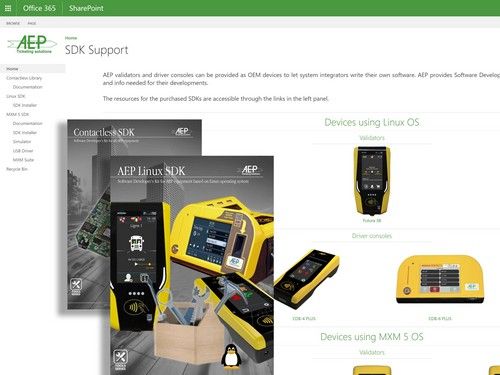 The advantages of EMV also for OEM customers
AEP has always offered the greatest openness of its products to other System Integrators (also called "OEM Curstomers").
On AEP products, such as multifunctional units and validators, it is indeed possible to use software produced by third parties and not only AEP's one: an important guarantee on the investments of the Transport Companies, which are therefore not obliged to purchase from a single supplier.
In recent years, many developers have purchased AEP's Software Developer's Kits (SDKs), and the services provided in support have been continuously increased and improved: at the end of 2017 a new portal reserved for this type of user was created (see figure).
AEP now offers its OEM customers the ET-PASS solution for EMV card payments directly on board vehicles. This extraordinary new technology allows our OEM customers to quickly build and operate bank card-based applications (physical or emulated, such as Apple Pay) without the need for huge investments and without be experts in banking technologies and regulations.
The new EMV SDK, available for the /E versions of CDB-6 PLUS, Futura 3A, Futura 3B and Futura 4A, makes it very easy to integrate validation with bank cards or Apple Pay and includes all the features necessary for immediate connection to the digital payment platform prepared by AEP, also accessible to third parties at very convenient conditions. No additional certification is required and the system can be commissioned in just a few days.
AEP also offers all services for the realisation of specialised payment applications, including interfaces to new terminal management systems, new PSP or acquirers, with the support of specialists among the best in the industry.