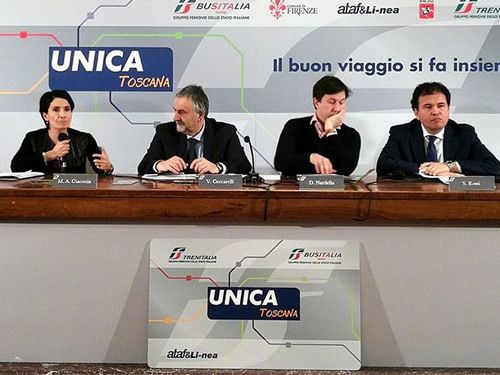 With UNICA TOSCANA, the Florence system launched
Florence, march 30th, 2017. Dario Nardella, Mayor of Florence, and Vincenzo Ceccarelli, Regional Councillor for Transport of Tuscany, Stefano Rossi, Busitalia's Managing Director, and Maria Annunziata Giaconia, Trenitalia's Regional Director, presented to the press the new UNICA TOSCANA card that marks the launch of the new Electronic Ticketing System, based on ET – The Easy Ticketing and based on Futura 3B validators.
UNICA TOSCANA is a contactless smart card that allows you to travel both on public transport in the Florence metropolitan area and on Trenitalia railway and is the result of the joint efforts of Busitalia-Trenitalia-ATAF Gestioni to promote integrated mobility, facilitating the combined use of transport services.
It will initially be possible to charge on UNICA TOSCANA:
Trenitalia regional (weekly, monthly and annual) and ISEE subscriptions and supraregional season tickets with at least one place of departure/arrival within the borders of Tuscany;
annual subscriptions, monthly subscriptions and carnet of 10 ATAF & Li-nea tickets.
Other types of Travel Documents will either be added over time.