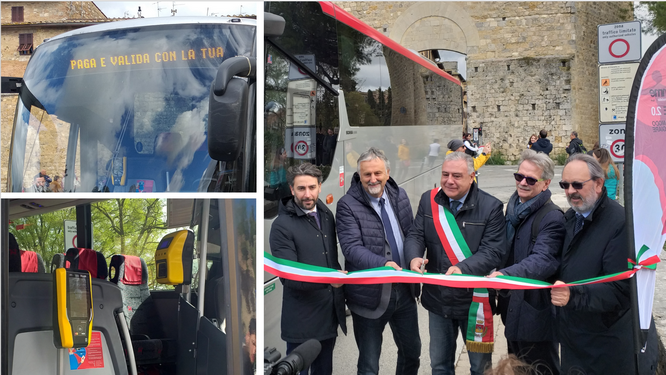 Tiemme still first with EMV
Siena, april 2019, 5 – Tiemme is once again the first and as confirmed itself as one of the most innovative Italian companies in public transport. Already the first in Italy to have adopted the payment system based on EMV bank cards on an entire urban area in the city of Grosseto, Tiemme presents today another absolute novelty, extending this new payment system to the suburban line Siena – Colle Val d'Elsa – Poggibonsi – San Gimignano – Florence, thanks to the participation of Mastercard Italia, the electronic ticketing system ET, The Easy Ticketing of AEP and the ET-PAY platform for on-board payment with EMV contactless bank cards.
From next April 15, thirty Tiemme suburban buses equipped with Futura 3B validator, will allow the traveler to pay for his trip using bank cards, on the whole route, with two important innovations, probably introduced for the first time in Europe:
possibility to select the destination, by means of the touch screen of Futura 3B;
possibility to make the payment also for more people.
Buses show the decalcomania of the Pay and Go campaign on the uphill doors, show on destination sign information for travelers of the possibility of using their bank card on board.
"We are proud to be at the top of Europe for this innovative service that simplifies the lives of citizens – says the General Manager of Tiemme, Piero Sassoli (on the right in the picture) – After the entire urban service of Grosseto, here is a suburban line so important for the territory of the province of Siena, where thousands of customers travel every year for tourism and work. Especially tourists are the ideal target of this new project, which allows us to propose smart payment solutions, also useful to eliminate any alibi for the sly ones. We will continue on this way and by summer 2019 all 206 buses in the Tiemme fleet will be equipped for payment on board by credit card.