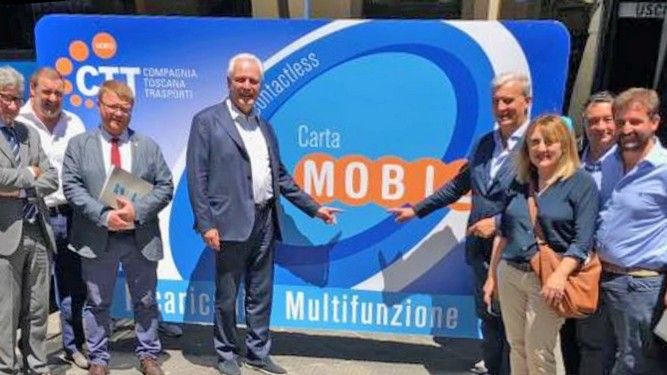 CAP Carta Mobile now also suburban
Prato, 24.06.2019 For more than four years now, it has been possible to use the CAP Carta Mobile to travel on the urban network of Prato. From today it is also possible to use it on the suburban network.
It was announced by the mayor of Prato Matteo Biffoni and the general manager of CAP Alberto Banci:
Biffoni: "Despite the complicated situation that CAP is currently facing due to the the tender of the transport service, the Consortium continues to modernize, is at the forefront and invests to improve more and more the service offered"
Banci underlines how the CAP tradition of introducing important innovations in Tuscany continues: "The extra-urban electronic ticket is the first at regional level and one of the first at national level. Our innovations – he adds – go in the direction of making the service more easily accessible to users".
With Carta Mobile you can buy all the urban and suburban tickets of the basin and you can recharge the electronic purse. We remind you that in all CAP vehicles there is an obligation to validate each ascent.
The Facilitators are back, this staff is present in the buses, at the terminuses, stops and city's focal points to take care of travellers and clarify any doubts they may have. This year, the 14 young people from CapAcademy, the public transport school set up by CAP to train the drivers and maintenance staff of tomorrow will be wearing the harness of the facilitators.
New vehicles and introduction of turnstiles – the 21 new buses that have gone to renew the suburban fleet were presented. A few weeks ago six new hybrids buses arrived and completely renewed the LAM Viola line. In addition to green propulsion, these vehicles are a concentration of new technologies: roadscan and security cameras, USB charging sockets, onboard information screens, geolocation and passenger counters. They are also the first vehicles in the CAP fleet to fit turnstiles at the entrance, which will gradually enter into service for all travellers coming from Agliana, Montale and Montemurlo.
The CAP Electronic Ticketing System and all the equipment are provided by AEP.
More information here.