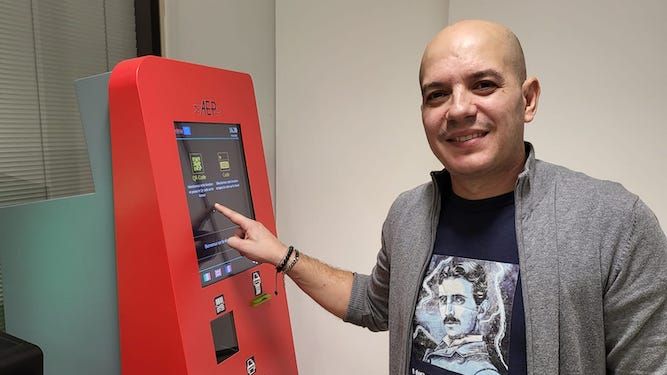 Public transport: ticketing is done with a self-sanitising screen
The invention was patented by the Florence-based company AEP Ticketing solutions
In the Covid era comes an innovation that enables the automatic sanitisation of screens used for bus and metro ticketing. The idea is from Aep Ticketing solutions, which has patented it and is ready to put it into operation with local public transport companies that espouse the invention.
The system is called 'Glasster' and works through ultraviolet irradiation. The UV radiation (short-wave ultraviolet radiation) takes place inside the shatterproof glass above the touch screen of the device with which the public is in contact.
"When the user uses the screen by moving between the various selection icons, the self-sanitising system intervenes on the clicked areas selectively and quickly. Within seconds you have the sanitised surface for the next user – explains Michele Collu of Aep's Innovative Ticketing Solutions department -. The beam produced by our Uvc LED passes through a pure quartz glass that allows the right wavelengths to pass through to achieve the germicidal effect. The system is feasible for displays up to 17 inches. The journey to get to this Glasster was a long one, we had to combine compliance with safety regulations and technology in the best possible way. Now we are just waiting for the necessary certifications to be formalised for production start-up. I would like to add,' he concludes, 'that this is just one of the many ideas that Aep is giving legs to: we never stop and we are constantly evolving."
With this in mind, the company has set up an area at its headquarters in Signa (Fi), dedicated to presenting to its customers the innovative projects it has developed or is still working on, with a view to disseminating them as widely as possible around the world at the service of end users.
patent, sanitising, screen, self-sanitising, ticketing, transport