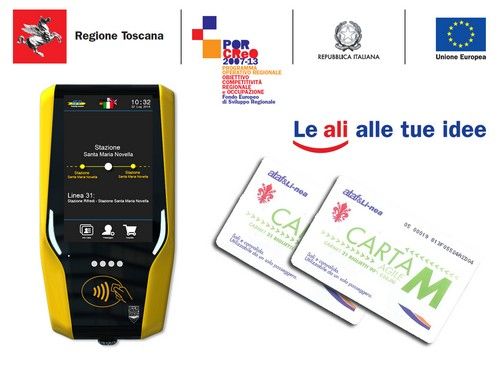 Futura 3B made possible by the EMVYSIO project
The EMVISYO project has allowed producing a new functional and innovative architecture for an IoT-focused electronic ticketing system, inter-operating with the new instruments available to users and operators. This evolution, anticipating some market trends, will make the Electronic Ticketing systems compliant with EMV (banking) and NFC (telecommunications) standards, to foster integration in the new network between the world of Local Public Transport and those of banks and mobile telephone operators.
Electronic Ticketing systems increasingly have to be inter-operable to allow, for example, the payment of the service through bank cards or with the new smartphones.
It can be said that electronic ticketing is entering the Internet, in particular it is becoming part of that world on strong expansion which is the Internet of Things (IoT). In addition, having seen the already great spread of Smart Cards and validators, it can also be one of the first applications already in the field, including with a view to the development of Smart Cities.
The project has been co-financed thanks to the R&D funds of the POR CREO 2007-2013 programme of the Tuscany region and has allowed the creation of a specific in-house project team at AEP and major collaborations with some companies with strong technological competences and important Research Centres.
Thanks to the project team, it has been possible to complete all the activities of research, analysis and development of the new IoT paradigms, the national and international standards and the requisites/needs of users and operators of Local Public Transport, reaching the core of industrial research through the definition of architectures and the hardware and software design of the main modules that make up the EMVISYO system.
During the phases of experimental development, the above components were made, prototyped and tested, thus completing the release of the new evolved prototype IoTSBC device which integrates into the ticketing system the aforementioned NFC and EMV contactless technologies.
The final objective of the project was to produce a new line of electronic modular validators for smart cards and tickets, based on a completely innovative architectural model.
The project included:
– the design of an architecture that is inter-operable with the commonest international standards
– the design of the new CPU board based on the new system architecture called IOTSCB or Soft SCBMX
– the design and integration of a new contactless reader compliant with EMV and NFC standards
– the activities aimed at optimizing the automatic or partially automatic testing of the products in question
The project was also strongly advertised, both through direct meetings with customers and through conferences and articles which allowed highlighting the strengths but also the improvements necessary for the project.
Thanks to the EMVISYO project, the new line of FUTURA 3B validators has come into being and is in the phase of being introduced on to the market in its various evolutions.