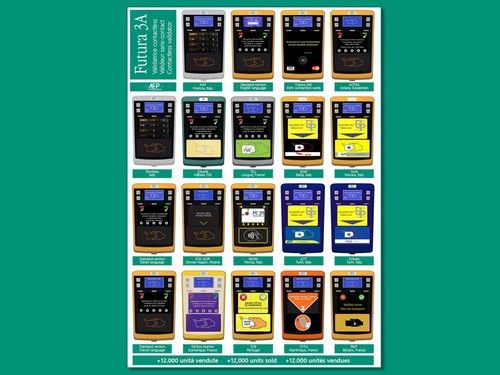 Il poster di Futura 3A
The Futura 3A, with some 12.000 sold units, is the most widespread product from AEP. Essential, robuts and with a special price/performance ratio, the Futura 3A is the ideal entry-level solution for the full-contactless systems. The Mxm operating system extends its capability: with a clock frequency of just 50 Mhz and 8M dynamic RAM, it has a large storage and is capable to process all cards for the public transport with the best performances of its category. In parallel the new Futura 3AE can boast also an EMV/PCI-PTS certified reader to handle the bank cards.
The Futura 3A is also configurable at livery level: many customers have requested their own personalization and to date (12 /2015) we can count 19 different versions. Just to group them together in "a rank" we have published a nice poster which you can send a request for a printed copy in 60×85 format.