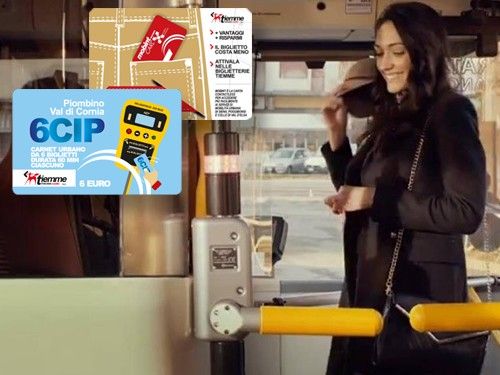 Mobility Lab: Tiemme for innovation
Tiemme chooses Piombino to launch the Mobility Lab project: innovation and simplification in the name of mandatory validation. A new urban pricing system, new ways of accessing the vehicle with electronic tickets and the introduction of turnstiles to control access to the vehicle.
The objectives of the project are to improve customer satisfaction, encouraging customer loyalty, and to combat tariff evasion, through the gradual introduction of new rules.
So, the Mobint Card arrives in Piombino, the personal card already present in the other areas served by Tiemme, on which subscriptions, multi-travel carnet and the electronic purse can be loaded, as the journey towards the gradual elimination of the traditional paper ticket.
Composition
The electronic ticketing system was developed by AEP and is based on ET – The Easy Ticketing. It is composed of:
Multi-company Corporate Control Centre (CCA) that is perfectly adapted to Tiemme's management and functional structure, allowing to manage the different areas of competence on a single platform. The Piombino system joins the other Tiemme systems already in existence: Siena, Poggibonsi and Colle di Val D'Elsa. The CCA is integrated with Tiemme's AS400 management system to transmit sales operations and subsequently accounting.
On-board Subsystem consisting of a combined contactless – paper tickets validator F240B equipped with the ET-VAL software module; the validator is integrated with the turnstile system and allows access on board only in the presence of a valid travel document.
Sales Subsystem consisting of: RTVM-I ticket vending machines, ticketing desks equipped with the ET-TIC application for issuing passes and travel document sales;
Control Subsystem based on ET-MOB application.
The system is able to manage Travel Documents on various types of physical media:
Mobint Card: personalised card made of rigid material (PVC), used for subscriptions and the Electronic purse; it is a Calypso 3.1 card, protected by the use of SAM module;
6 CIP: impersonal Chip On Paper made of plastic cardboard, coded with a 6 ride Carnet;
Paper tickets: simple ride or timed tickets, issued on thermal paper by ticket vending machine or sold by authorised retailers.
The system has been realised in compliance with the interoperability directives promoted by the Region of Tuscany and Tiemme, which make it possible to introduce interoperable tickets that enable the user to travel with the same title and the same personal card on all or some transport systems of Tiemme Group companies and other operators participating in the regional initiative.