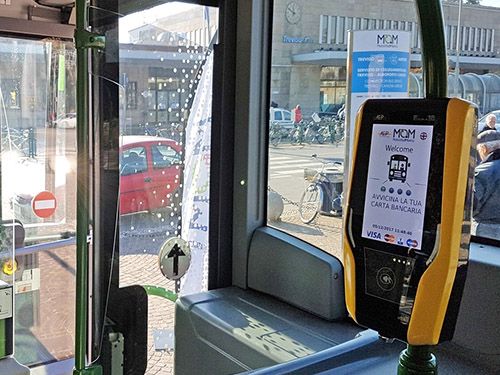 The first "real" EMV system is operating!
The time has come: on December 11th, 2017, the first "real" payment system for public transport with EMV contactless bank cards on buses was put into service at MOM Treviso, on the airport line, after the presentation made on December 5th by President Giacomo Colladon and General Manager Giampaolo Rossi (here the film).
This is not a normal POS mounted on a bus but a "real" system created according to the Transport for London model, which offers the possibility of using contactless EMV bank cards directly, with a simple tap on the AEP Futura 3B validators installed on the buses.
The system is based on ET-PASS, the AEP solution resulting from major investments, which fully meets all the requirements of the banking system and payment circuits.
MOM is a joint-stock company controlled by 39 entities (Province of Treviso, ATAP, ATVO and 36 Municipalities in the Province of Treviso). It currently manages local public transport in the province of Treviso, with suburban lines that reach the main cities of Veneto, the beaches of Jesolo and the province of Pordenone. MOM also manages the urban service in the cities of Treviso, Vittorio Veneto, Conegliano, Montebelluna and Asolo. The operation confirms MOM's orientation towards innovation and its sensitivity to customer needs, which in the case of the airport line is mainly made up of tourists (very often foreigners), for whom it is not easy to obtain a travel ticket.
"It is a historic date not only for AEP but for the entire Italian public transport" declared ing. Giovanni Becattini, CEO of AEP "We have worked hard to achieve this result, of which we are immensely proud. A solution where everyone wins, absolutely advantageous for transport companies, for customers and for the banking world. We have delivered to date almost a thousand terminals certified for EMV and we are convinced that in a short time there will be no Electronic Ticketing System that can ignore contactless bank cards."