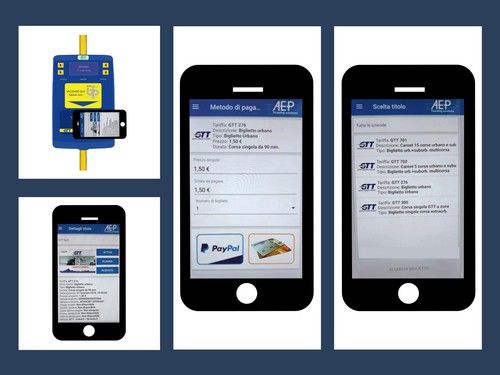 HCE for GTT Turin provided by AEP
Turin, February 1st, 2018 – The new GTT Turin App for ticket payment on public vehicles using smartphones was introduced today.
The presentation of the new instrument took place on the occasion of the meeting of the Special Council Commission on local public services, in joint session with the II Permanent Council Commission and the Special Council Commission on Smart City.
Buying a travel document with the new App will be very easy and fast. Once you have downloaded and opened the App, the page with the tickets you can buy appears. Once you have made your choice, and paid by credit card, the ticket arrives on your mobile phone with two simple clicks. When boarding public transport, simply open the App and bring your smartphone closer to the validator to validate your Travel Document and activate the validity of your ticket.
This is a further step towards the end of the paper travel document. With the introduction and diffusion of BIP, all subscriptions can only be purchased with smart cards. It is also possible to pay for parking using the App.
Experimentation will continue in the coming weeks with the aim of making the new application active by the summer.
The solution is based on VTS, AEP's HCE infrastructure, which allows you to recreate on your smartphone the functionality of chip on paper, today, and, in the future, traditional cards.
True to its policy of openness, AEP will also make available to GTT the Software Developer Kit (SDK) that will enable third party companies to easily build new apps, perfectly integrated into the VTS system.