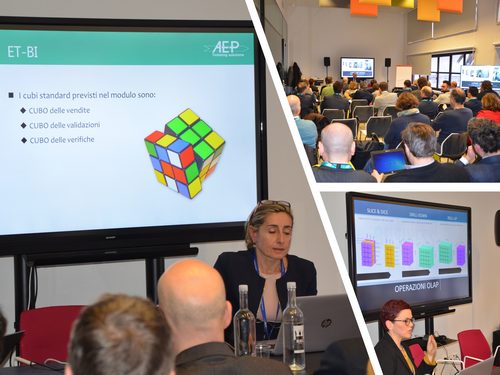 The first AEP Data Day was a success
On January 26th, 2018, the 1st AEP Data Day took place at the Palazzina Reale of the Florence Santa Maria Novella station; solutions, ideas and opinions were presented relating to the processing of the immense amount of data that a Ticketing System produced during its normal operation. This data, so well exploited, can guide the decision-making processes of the Transport Companies to obtain ever better results.
Participants included speakers from important organizations such as ARRIVA SADEM (Giuseppe Proto and Alessandra Preve), ATV Verona (Andrea Cobelli), Turin City Council (Paolo D'Angelo), Grandabus (Mauro Paoletti), GTT (Paolo Sandri), MOM Treviso (Daniele Caner) as well as Prof. Carlo Maria Medaglia in internet connection and AEP experts, who presented the new ET-BI business intelligence module.
The participants were about 50 and the topics of great interest, so as to arouse needs for future studies.
"It was a wonderful day, with a participation and a attention that made us feel for a day more like a group of friends with common interests than the usual Customers and Suppliers" said Gianni Becattini, CEO of AEP, "Our aim was not only to promote the activities of AEP but also to promote an effective dialogue on a very important issue and not always known in Italy. Surely it's something we'll repeat, also dealing with different themes.