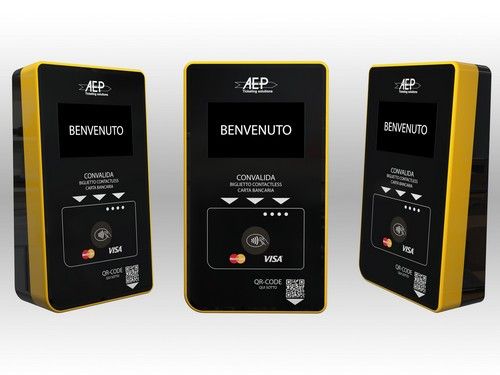 La nuova Futura 3ALX
Paris, 12.6.2018 – The contactless-only Futura 3A validator has so far been one of the most successful products of the AEP family; designed in 2009 to comply with the requirements of the Technical Specifications of BIP Piemonte, it has been produced in almost fifteen thousand pieces and has also been exported to numerous foreign countries. Compact, functional and convenient, it has been chosen by many transport Companies.
After nine years of success, a renewal was necessary, with a model that interprets the characteristics of this successful model in a more modern way.
Thus was born the new Futura 3ALX, which AEP presented these days at the Transports Publics 2018 exhibition in Paris, and immediately found great interest. Futura 3ALX cis now the "entry-level luxury" model in the AEP range, offering many features that would be logical to expect in much more expensive products:
contactless validation also for bank cards, with EMV/PCI certified reader;
ability to work with NFC phones;
optical validation of QR-code;
new Bluetooth LE, Wi-Fi and 4G communication devices;
full open to development by third parties with SDKs prepared and supported by AEP.
Futura 3ALX is better than its predecessor: the CPU is more than ten times faster and memory almost forty times larger. The Linux operating system allows to run complex applications, able to exploit the most modern network protocols. It then has a much larger colour screen, also available as a touch screen.
As always, AEP operates in order to protect the previous investments of its Customers; the previous Futura 3A remains in production but only for replacements or integration of existing systems. Futura 3ALX can also be mounted on existing supports without modification to the installation.