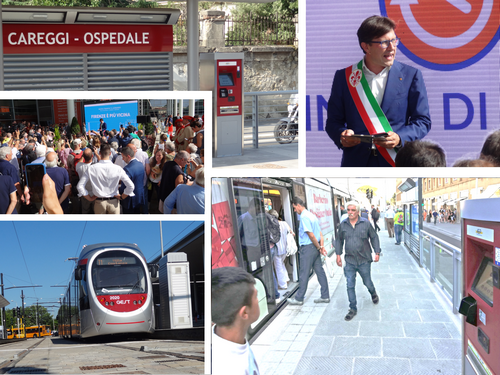 A Firenze parte T1 Leonardo
Florence, 2018.7.16 – Hundreds of people took part in the inauguration of the new tramway line of Florence, which transports people along the way from the railway station of Florence Santa Maria Novella to the great hospital of Careggi. Among the participants in the ceremony, led by the mayor Dario Nardella, there are also the former minister for infrastructure Graziano Delrio and the former vice-minister Riccardo Nencini, as well as other members of parliament and the archbishop.
The inaugurated section was known during the works as "Line 3"; operationally it becomes the continuation of the previous line 1 and the entire route goes under the name of T1 Leonardo.
T1 Leonardo is operated by GEST, the company founded in 2004 with the aim of managing and carrying out the tram transport business in the Florentine area. The company is 100% owned by the French company RATP Dev, , of the RATP Group, one of the largest groups in the world in the field of public transport.
GEST S.p.A. was in fact formed by RATP Dev, currently the owner of 51% of the share capital of GEST and usufructuary of the remaining 49%, and ATAF S.p.A., owner of the bare property of 49% of the share capital of GEST.
Since February 2010, the company has managed the T1 line from Scandicci to Florence, with 14 million passengers a year.
The tramway represented a fundamental turning point for the urban mobility of the Tuscan capital, previously entrusted exclusively to road transport. According to the most recent surveys, more than 80% of Florentines said they were satisfied with the tram service.
The ticketing system of the tramway is integrated with that of ATAF (Busitalia Sita Nord group). The entire Electronic Ticketing System was developed by AEP and is based on ET – The Easy Ticketing. Only for tramway, AEP supplied 276 contactless/paper F240B validators and 67 RTVM-I self-service vending machines, some of which subsituted those of another supplier, already installed on the old section of line 1.