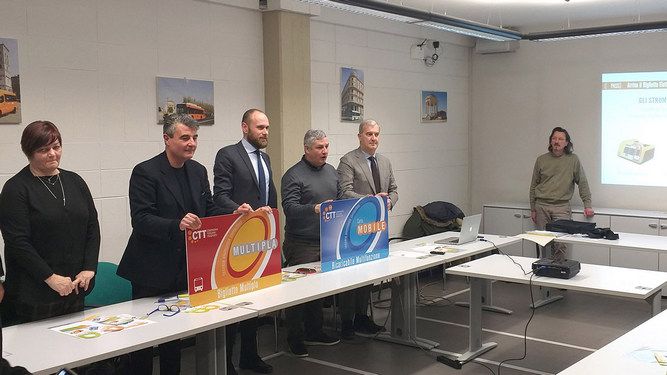 The e-ticketing system of CTT Nord activated in Lucca
Lucca, January 14, 2019 From today the urban public transport service of the city of Lucca has adopted the GoPass ticketing system: a project carried out with AEP Ticketing Solutions that completely renews the way of doing and using tickets or subscriptions on public vehicles.
The novelty was presented on January 11 by the president of CTT Nord Andrea Zavanella, in the presence of the regional councillor Vincenzo Ceccarelli, the councillor for local public transport in Lucca, Gabriele Bove, the chairman of the Committee on the Environment, Transport and Infrastructure of the regional council, Stefano Baccelli.
The protagonists of this change are Carta Mobile and Carta Multipla, similar to those already implemented in other Tuscan realities by CTT Nord. Carta Mobile is a personal Calypso card that can be used on the entire urban network of Lucca and is rechargeable in several ways: at the ticket office, via the Internet from a PC or smartphone, at the RTVM-I vending machines and at authorized retailers. Thanks to the ET-WEBSHOP module, it is possible to request it online and collect it at the ticket office, or purchase it directly at the ticket offices based on the ET-TIC module. Carta Multipla is impersonal and can also be used for several people.
It is a latest generation system, based on ET – The Easy Ticketing 5.0. The 170 buses are equipped, in addition to the F240B validators, with Multifunctional Units CDB-6 PLUS already prepared for the process of EMV contactless bank cards, while the onboard verification is done with portable devices CDB-4 PLUS.