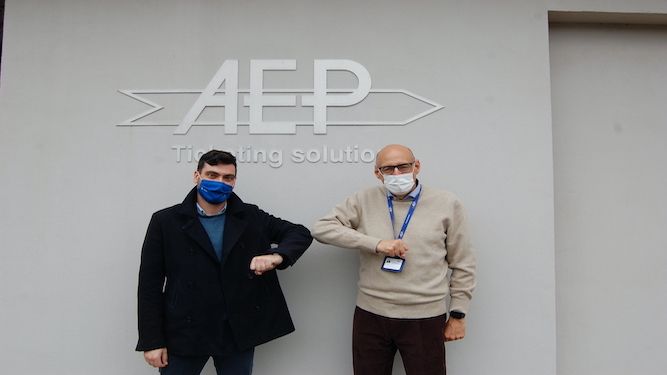 AEP Ticketing Solutions donates € 1500 to ATT for the PrelievoPlus project
The donation will serve to strengthen the service of home sampling and transport to the laboratory
The AEP Ticketing Solutions Company based in Signa (Fi) donated 1500 euros to the Tuscan Tumors Association for the PrelievoPlus project, aimed at strengthening the home blood sampling service and transport to the laboratory for cancer patients with the assignment of a new nurse for a year. AEP Ticketing Solutions is a leader, in Italy and abroad, in electronic ticketing for public transport.
In particular, the donation will make it possible to guarantee health facilities for six months of home blood sampling for a cancer patient, helping to achieve the main objective of the ATT, which was born in 1999 to bring the care of doctors and nurses home free of charge. .
Gianni Becattini, CEO of Aep, welcomed Giulio Ravoni, ATT medical coordinator, to the headquarters of the Florentine company, who brought greetings from President Spinelli and the whole Association.
"We sincerely thank AEP Ticketing Solutions for its generous gesture which comes at a particularly difficult time for cancer patients – said Dr. Ravoni -. The pandemic that has exploded over the last year has further put their already fragile health at risk and their home has become the ideal place for them to be treated and protected from contagion. In 2020, requests for assistance increased (+ 17% compared to 2020) and requests for nursing services provided directly at home also increased, avoiding the stress of having to go to hospital. Precisely to give a concrete response to these urgent needs, ATT has decided to launch a fundraiser for the "PrelievoPlus" project, thanks to which 90 new patients will receive the home withdrawals necessary in a year to carry out the chemo or immunotherapy cycles and 1000 more withdrawals can be made in one year, for a total of 3000 withdrawals per year. We are grateful to AEP Ticketing Solutions who showed great empathy by giving their support to our project ".