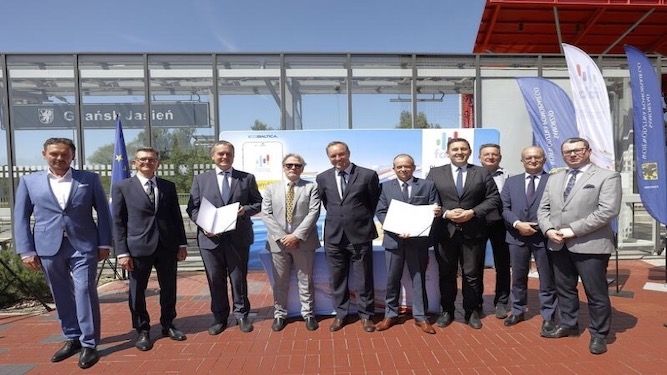 AEP brings electronic ticketing to Pomerania
Won the tender together with Asseco Data Systems (ADS)
IThe ticketing system for public transport in Pomerania (Poland) is revolutionized, and it does so also thanks to the solutions of AEP Ticketing solutions, a company based in Signa (Fi), a leader in the sector for years. Specifically, the tender, launched by InnoBaltica, was awarded to the temporary consortium made up of Asseco Data Systems (ADS) and AEP, for 105 million slots (approximately 23 million euros). The electronic ticketing and passenger information system will cover the Polish province of Pomerania, which includes the three big cities Gdansk, Gdynia and Sopot, and will be ready by 2022. AEP will supply approximately 6,000 EMV Futura 3ALX and Futura 3B validators, together with newly ones designed for stations.
The agreement was signed on June 14th at the PKM Jasień railway junction in Gdansk. The ceremony was attended by representatives of the local authorities of Pomerania: Marshal of the Pomeranian Voivodeship Mieczysław Struk, vice president of Gdansk Piotr Borawski, as well as Marcin Stefanski, president of the board of directors of Innobaltica, Andrzej Dopierała CEO of Asseco Data Systems and Saverio Bettini, MD of AEP Ticketing solutions.
"This agreement is a great result – said Saverio Bettini, MD of AEP – which strengthens our historic relationship with ADS, one of AEP's largest partners. A new challenge that once again confirms the quality of our company's products, especially when equipped with EMV technology, where we believe we are at the forefront."
ADS is based in Gdansk and is an ITS company in the secto with a thousand employees, it is part of the Asseco Group operating in sixty countries around the world. Together with ADS, AEP has already implemented the ŚKUP Card system, used in the Silesian region of Poland. 
InnoBaltica is based in Gdansk and its mission is to implement innovative solutions that have a direct impact on people's quality of life. Its most important project is the introduction of the Fala system (Integrated Mobility Services Platforms) throughout the province of Pomerania, a unified payment system for public transport, as well as a state-of-the-art passenger information system.