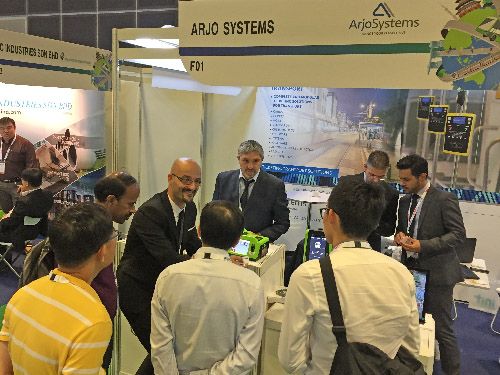 AEP with ArjoSystems at SITCE Singapore
The LTA-UITP Singapore International Transport Congress and Exhibition (SITCE), about the theme of innovative solutions for urban transport, held in Singapore on october 19-21 2016.
AEP was present in our partner Arjo Systems' stand ; this company is famous for more than 20 years as one of the leading providers of complex solutions for identification and smart card.
Solutions based on ET – The Easy Ticketing and AEP equipments were presented at the stand. In addition with Futura 3B, CDB-6 PLUS and CDB-4 PLUS, the new Futura 3B version with a EMVco and PCI-PTS certified reader, able to process contactless bank card, was also shown ; this validator is also used in ET-PASS solution (EMV).
In the photo on left, ing. Luigi Sassoli, AEP Tecnical Director (who is smilling with glasses)with ing. Cesare Paciello, Arjo Systems. In the photo on right, ing. Silvio Merli from AEP (with striped shirt), responsible of new international markets, while a visitor tries to validate a VISA card emulated by a smartphone on Futura 3B.
"We believe a lot in the agreement with Arjo Systems", Silvio Merli declared, "a very reliable company with a great experience with which we feel that we can together achieve important goals in Far East markets".