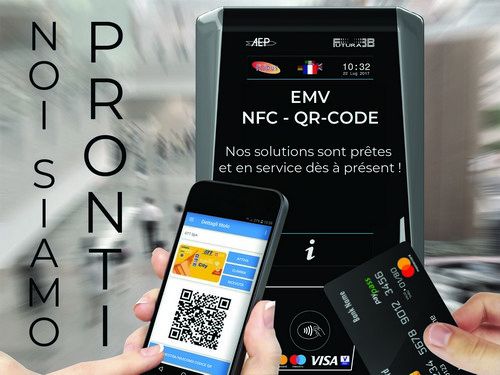 In Chartres, the first AEP urban EMV
Are the new digital mobility solutions a threat or an opportunity? Also, in the field of mobility, traditional schemes are driven by the digitalization of services and leave decision-makers faced with numerous questions.
The independent association AGIR (Association pour la Gestion Indépendante des Réseaux de transport public) has organized the Journées AGIR 2018 (7/8 november 2018, Chartres, France), an important opportunity for public transport and services operators, such as bike sharing, car sharing, car parks, etc.
The "Journées" will deal with issues of governance, partnerships between public actors and private solutions, tools and technological obstacles in the development of new mobility solutions for:
understand the problems and define the target for new mobility flows, in accordance with local decision-makers and for the benefit of passengers;
design a local vision of the public mobility service in a globalized environment;
encourage the development of private initiatives for the benefit of users or fear a loss of control by mobility managers.
During the "Journées" will be presented by Filibus, the Chartres transport company, and by the transport authority Chartres Métropole, sponsored by MasterCard France, the new Automatic Fare Collection System of AEP Ticketing solutions, which offers, among other things, payment on board with contactless EMV bank cards according to the Open Loop Payment model, the first created by AEP and the first in France on a complete urban area.
The French association AGIR was created in 1987, by officials and technicians elected by the local authorities, with the aim of acquiring a competence independent of the large transport groups.
Today, more than 220 members from local authorities or transport companies benefit from the expertise developed by AGIR in complete independence.
AGIR provides its members with the services of experts on all topics related to public transport.
AGIR has acquired multiple operational resources to meet the needs of its members, in the areas of regulation, transport supply, choice of management.
AGIR offers its members the guarantee of independent and high-level consulting through its network of lawyers, fiscal experts, operational experts, electronic ticketing experts, communication consultants, etc.
To ensure that the range of services is complete, AGIR is also an approved training organization and has set up a central purchasing office.
AGIR has experienced strong growth in recent years with an average of 30 new memberships per year. Such an in-crease illustrates the relevance of the services offered and their adequacy with the need for support for professionals.
In addition to the expertise made available to members, AGIR's development is closely linked to the dynamism of its network, which encourages the exchange of "best practices".