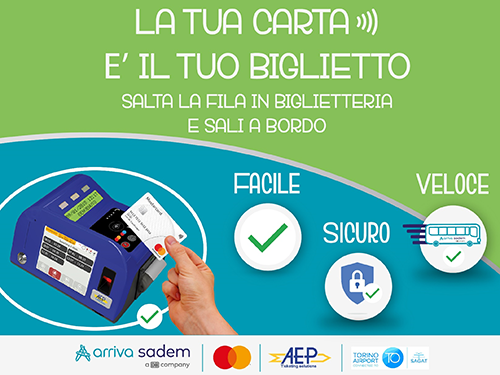 The Turin Caselle trip can be paid by a tap!
Turin Caselle Airport, 12.20.2018 To pay the price of the trip on the line between Turin and Caselle airport on ARRIVA SADEM buses, you just need to have with you your bank card enabled to contactless mode. A novelty, the one presented today, that goes in the direction of simplifying the procedures for payment of the ticket by dematerializing the ticket.
The new service, implemented in collaboration with MASTERCARD ITALIA, AEP Ticketing Solutions and Sagat Torino Airport was inaugurated today, December 20th, in the presence of the Councillor for Education, Employment, Vocational Training, Giovanna Pentenero, the President of the Transport Commission Nadia Conticelli, the Councillor for Innovation of the City of Turin Paola Pisano and local authorities.
With more than 6 million passengers carried each year, almost 12 million bus/km managed, over 200 vehicles and over 300 employees, ARRIVA SADEM is one of the most important companies in the mobility sector in Northern Italy. It is part of the Extra.To consortium, the only operator for suburban transport in the Metropolitan City of Turin that has been using the Electronic Ticketing System developed by AEP Ticketing Solutions for many years.
With this innovation, ARRIVA SADEM is the first company in Piedmont and one of the first in Italy to offer an innovative payment system that is convenient, fast and easily accessible even for foreign passengers. The system allows you to buy the ticket by simply tapping any EMV card contactless or smartphone enabled for NFC payments on the device on board the vehicles, ensuring direct access to the transport network and avoiding, for users who decide to use the service, queues and registrations….