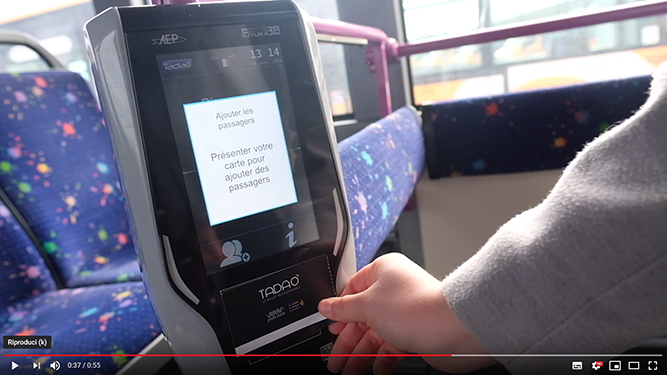 Three new videos on the TADAO system
January 23, 2019 The TADAO network, operated by the Syndicat Mixte des Transports Artois-Gohelle (SMT) and managed by Transdev, covers an area of 115 municipalities and represents, in terms of population (about 640,000 inhabitants), the seventh perimeter of urban transport in France (urban areas of Lens-Liévin, Hénin-Carvin and Béthune-Bruay).
TADAO's new electronic ticketing system was developed by AEP and is based on ET – The Easy Ticketing 5.0.The project started in May 2017 and is divided into three phases: V1 cohabitation with the old system, V2 transition from the old to the new and V3 installation of 116 RTVM-I ticket vending machines and commissioning of BRT buses (buses in dedicated lanes). Phases 1 and 2 were completed according to plan, while the third is being completed.
These days, the online sales portal and the sale of chip-on-papers, which replace the old paper tickets, are starting up.
Some system numbers: 461 buses of which 41 BRT (7 bus lines on dedicated lanes) equipped with Futura 3B, 116 RTVM-I self-service ticket vending machine, interoperability with the regional Pass-Pass card (originally Nord-Pas-de-Calais region, now Hauts-de-France region + SNCF/TER trains), 15 points of sale in 5 ticket offices, 74 retailers and 10 control devices. All devices are equipped with EMV and QR-code reader.
The new system replaces the previous one from another supplier; at the same time, the Data Center has been renovated and the new depot has been inaugurated: a modern structure in glass and wood, with offices, meeting rooms, and large, bright spaces).
AEP warmly thanks TADAO, SMT and Transdev for the great opportunity and presents its compliments for the work done and also for the TADAO site, ery well done, which describes in detail the Company, the network and the ticketing system.
In it there are three videos that many AEP customers may surely want to take as an example. We report the links: