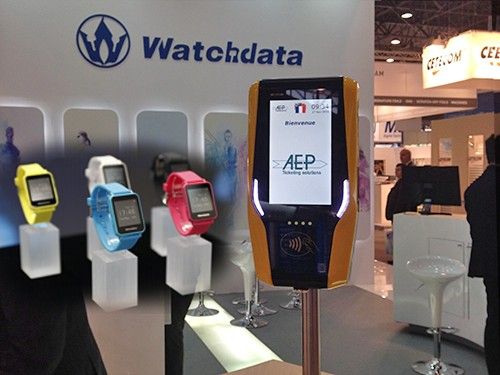 Futura 3B at Cartes, Paris
Watchdata Technologies, one of the pioneers in security and authentication of digital transactions, has launched its first wearable intelligent device Sharkey™, with mobile payment functionality, at CARTES Secure Connexions Exhibition and Conference (Paris, Parc des Expositions, Nov 2015).
To demonstrate the functionality of this extraordinary device, Watchdata has chosen the AEP Futura 3B validators which were exhibited at the stand of the renowned Chinese brand.
Sharkey™ , an intelligent wearable device resembling a wrist watch, is capable of carrying out NFC payments. Connected through Bluetooth to an Android or iOS mobile terminal, Sharkey™ can be used for contactless payments in public transport (buses and metros) as well as in supermarkets and micropayments as China UnionPay.
AEP thanks Watchdata for the great opportunity to display its Futura 3B designed by Giugiaro, one of the most famous designers worldwide. The Futura 3B has been recognized as a technological avantgarde as well as one of the best looking validator in the market.