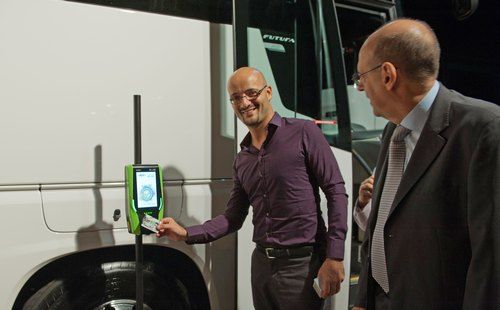 The Cooperativa in Riolo celebrates its 70th birthday
The Cooperativa Trasporti in Riolo Terme has been operating in the transport sector since 1945, year of its foundation. Specializing on people transport throughout its growth, it has become a reference for the promotion of its territory and its residents who use their services daily. Nowadays the Cooperativa is a modern transport company based in Riolo Terme and equipped with a bus fleet for any transport necessity. As a matter of fact it works on public and tourist transport, limo services, with minibus and big capacity extra-urban buses with all comforts.
On Sep 17th 2015 the city of Riolo Terme has celebrated the 70 years of the Cooperativa which, like many other companies of the CO.E.R.BUS consortium, has adopted ET – The Easy Ticketing and the AEP on-board equipment.
In the picture, Luigi Sassoli, AEP Technical Director, presents the Cooperativa new contactless electronic ticket with a demonstration Futura 3B installed on a pedestal in front of a bus , "guarded" by Giovanni Becattini, AEP CEO.